Loading Zones for ebikes and ecars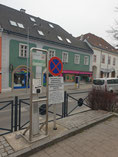 The closest loading station is located at Stadtplatz infront of house no. 16 "Libro-Shop". Loading is not possible on market days every Saturday between 4:00 a.m. and 2:00 p.m.
Please note that the station is within the short parking zone of the town - the fee must be paid except ecars during the loading process.

Another loading station - free of charge for our guests - is available at "Kollersteig" located also in Klosterneuburg. You can get a free transfer to the station, the car will be recharged and when it is done you can pick it up from there.
Technical details: plug typ 2 - 22kW
A free loading zone for ebikes are next to the "Happyland", behind the train station.
You can also recharge your e-bike in the bicycle room in the garden. If the loading capacity is not enough just let us know.
Further E-stations in Klosterneuburg:
Bahnhof Kierling, Park&Ride-Parkplatz

Pater Abel Straße / Ecke Leopoldstraße

Wienerstraße 112, Wienerstraße / Ecke Weidlingerstraße, A1 & WienenergieGmbH

Wienerstraße 9, Smatrics / Billa

Schüttaustraße 9, ÖAMTC

Gschwendt 27, Elite Bikes

Töckergasse 24, 3420 Kritzendorf, DI Wolfgang Spitaler

Hillbertpromenade 25 3400 Gugging, Thomas Pöll