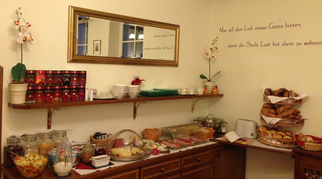 Breakfast:
Our breakfast will be served from 07:30 - 10:00 in the breakfast room.
If you like to enjoy your breakfast in the garden please let us know and we will prepare a table outside.
The storage room for the bicycvles is open already at that time so you can pack your bags. In consideration to other guests we kindly ask you to do this in quiet.
Smoking:
Please note that all our rooms are non smoking rooms. So we kindly ask all smokers to enjoy their cigarette outside. A good cigarette goes well together with a nice cup of coffee or tea in our garden!
In case somebody is still smoking in the room or merely blows the smoke out of the window we reserve the right to charge an additional night because this causes an inconvenience to the following guests and we cannot resell the room anymore.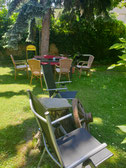 Garden:
Our garden can be used at any time you like. We serve you coffee, a beer or a good glas of wine.
A small grill for a nice barbecu in the evening is also available and ready for all the grill masters under our guests. We have the coal - you have the hunger!

Internet:
 In your room, in the breakfast room and next to the reception you have access to the internet. Simply enter "Alte Mühle" Network and confirm.
If you are travelling without smart phone or a similar device we provide you with a tablet so that you can go online during your stay in our house. Internet access and rental tablet are both free of charge.
For the print of online tickets, confirmations aso please send an eMail and link to info@hotel-altemuehle.at and we print the attachment for you.
Wheel Chair Access:
We have one room available which is completely accessible by wheel chair. You enter the house via a ramp from outside and enter the room without any stairs at ground level.The bathroom has a sliding door to open and handles next to the toilet. The great shower is without tub and a chair/seat is available too!
Further rooms on the ground level are also easy to reach without stairs but do not have the mentioned facilities in the bath room!
Pictures can be seen at "Rooms!°
Check In/Check Out:
Check In time starts at 14:00 hours, check out until 11:00 hours. If you arrive earlier or want to leave later please let us know. To organize the housekeeping please tell us your approximate time of arrival. If you do not want to leave after breakfast we can store your luggage for you.
Parking:
Parking is possible in the inneryard with a narrow entrance or also outside opposite the house or along "Mühlengasse" - the small street infront of the building free of charge and safe.
Dogs/Animals:
If you arrive with an animal we kindly ask you not to take it into the breakfast room and also to let us know that your are coming "in company". Cat owners will be ask to keep it in a cage and not let them run around freely.
The rate is from Euro 3,50 - to Euro 5,-- per pet and day - depending on the size and race.
Enjoy your stay and have a good time!