Art, Culture, Leisure, Hiking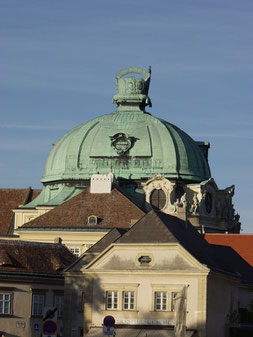 "Stift Klosterneuburg" - Klosterneuburg Monastery:
Do not forget to visit the most important sight of our town -  The Monastery/"Augustiner Chorherren Stift Klosterneuburg".
Tours: Sala Terrena, "Stiftsplatz" - next to the porter.
Opened in the summer season: 09:00 - 18:00 Hours
Stiftsführung - 60 min. -daily 10.00/11.30/16.30 Hours
Gr.Stiftsführung - 90 min. - Mo-Fr 13.30 Hours, Sa-So 13.30/15.00 Hours.
Check the various tours with the unique treasures like the altar of verdun and many others.
Winery Tour: Mo.–Fr., 15.15 Uhr | Sa.–So., 13/15.15 Uhrr
Detailled information and describtions of the tours are available at: www.stift-klosterneuburg.at  
Vinothek Stift Klosterneuburg - wine shop of the monastery
Taste the wines, sparkling wines and spirits of the winery in the historical cellars of the Vinothek.
Mo.-Fr.: 9:00 - 18:00 hours
Sa.: 9:00 - 17:00 hours
Su.: 12:00 - 17:00hours
Museum Gugging:

opening times: Tuesday - Sunday 10:00 am - 06:00 pm
Hiking in Klosterneuburg and surrounding area:
wine-experience-path: trail through the local vineyards with some information about wine and blends. Duration 1,5 hours. If you need some practice and taste what excellent wine the soil and the local winemakers can produce, we recommend the "Trat-Wiesner" Winery which is only a short walk away.
Hagenbachklamm: accessible by bus or car. Parking infront of entry. Duration app. 2 hours both ways .Trail along a little gorge along bridges.
www.trat-wiesner.at   www.naturparke.at   Naturpark Eichenhain
Redlingerhütte: good food and drinks after a walking tour through the nature. Accessible via Car or Bus and 20 min. walk. Suitable also for pushchairs.
Redlingerhütte   popular hiking routes through the enviroment
"Die Garten" in Tulln - Garden Exhibition:
More than 70 show gardens in different shapes and sizes (80 – 800 m²) situated in the beautiful former wetland now parkland attract visitors from all countries. Landscaping companies, nurseries and architects created garden ideas of multiple designs with beautiful plants, flowers and shrubs.
- 30 m high treetop pathway revealing a fantastic panorama over the Danube and the gardens below
- Austria's biggest children's playground (10.000 m²) for experiencing adventures
April 13th - October 13th 2019 daily 09.00 - 18.00 hours
Römerland Carnuntum:
brings back to old Romans into the world of today. A renovated roman quarter, the fascination of gladiators and precious treasures of the past.
Day Trip to Bratislava by boat:
From city to city in 1 hour 15min.With the Twin City Liner you can "cruise" several times a day from Vienna City to Bratislava. A very popular tipp for an excursion starting at 8:30 hours. Passport necessary.
Acetaia Pecoraro :
As a singer at the world famous Vienna State Opera Herwig Pecoraro recreated a part of Modena/Italy in Klosterneuburg.  He started with a couple of barrells and is now the producer of a special aceto balsamico made in Austria.
Information: Tel.: 02243-87323 bzw. 0664-2844304.
Klosterneuburg City Beach:
Too hot for the city, need to cool down? No problem. Only a couple of walking minutes away you can make a break along the danube at the "city beach" - a nice area with pools, boat rental, tennis courts, mini golf. Ask for the guest voucher for free entry.
Forest Rope Park Kahlenberg:
Visit the "Waldseilpark Kahlenberg" located only 15 minutes by car away from Alte Mühle. 18 climbing courses, climbs in the middle of living trees at a height of 1 to 20 meters, fly through the treetops on our Flying fox slip-line. An adventure for kids and adults alike.
www.erlebniswelt-kahlenberg.at
Bicycles for hire:
You can rent bicycles at the reception of the camping ground behind the train station: