Biking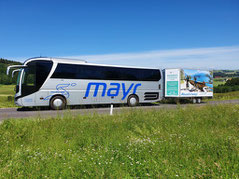 Your trip home with bicycle:

by train:
Westbahn: www.westbahn.at

towards Linz and Salzburg
ÖBB: www.oebb.at all directions
For information about bicycles on the trains, the "Einfach-Raus" bicycle ticket, house to house baggage service for the bicycles click here.
by taxi or bus:
Taxi Glück: Tel: 0043 (0) 2243 36111, reservation 3 days in advance
Rates: Klosterneuburg - Wien Hbhf: Euro 100,00 8 seats
           Klosterneuburg - Passau Hbhf Euro 550,00 8 seats
Bustouristik Mayr: Tel: 0043 (0) 664 33 66 008
Preise: Klosterneuburg - Passau HBF € 680,00 / Radbus 8-seats
            Klosterneuburg - Passau HBF € 900,00 / Radbus 12-seats
As a special service to our guests we offer - starting May 2021 - a bicycle transfer to the main train stations in Vienna. 1-4 Persons and for "Alte Mühle" guests only. For rates and availability please contact us.
Bicycles on public transportation:

You want to go by public transportation to "Hauptbahnhof" or "Westbahnhof" check out the useful information of Wiener Linien.
Guidet pedal power tours and rental bikes:
Classic Vienna Sightseeing Tour: 3 hours, Euro 37,00

May to September daily, October wednesday, friday, saturday
at Bösendorfer Strasse 5, 1010 Wien, 14:00 Uhr
register at our reception or www.pedalpower.at.
Wachaubahn between Krems und Emmersdorf:

A day trip to the Wachau region for bicycle users and non-bicycle users alike. Ease to reach via Franz Josefs Bahnhof to Krems daily 29.5. - 3.10.21 and Saturday, Sunday- & holidays 20.3.-28.11.21.

Accommodation along the danube bicycle track:
Privatzimmer Hinterstoisser in Ottensheim/Linz: www.privatzimmer-ottensheim.at
Frühstückspension Fidelsberger in Hollenburg/Krems: www.fidelsberger.at
Storage Room:
You can store your bikes in our storage room free of charge. If you have rental bikes you can leave them over there for return.

Reparatur Service:
SP Speed Planet GmbH. In der Au 2-4, TelNr: 0664 3904949