Biking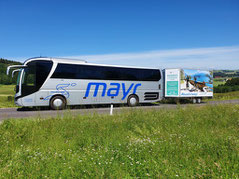 Your trip home with bicycle:

 by train:
 Westbahn: www.westbahn.at
towards Linz and Salzburg
ÖBB: www.oebb.at all directions
For information about bicycles on the trains, the "Einfach-Raus" bicycle ticket, house to house baggage service for the bicycles click here.
by taxi or bus:
Taxi Glück: Tel: 0043 (0) 2243 36111, reservation 3 days in advance
Rates: Klosterneuburg - Wien Hbhf: Euro 100,00 8 seats
           Klosterneuburg - Passau Hbhf Euro 550,00 8 seats
Bustouristik Mayr: Tel: 0043 (0) 664 33 66 008
Preise: Klosterneuburg - Passau HBF € 680,00 / Radbus 8-seats
            Klosterneuburg - Passau HBF € 900,00 / Radbus 12-seats
As a special service to our guests we offer - starting May 2021 - a bicycle transfer to the main train stations in Vienna. 1-4 Persons and for "Alte Mühle" guests only. For rates and availability please contact us.
If you want to go from Klosterneuburg to Vienna Main Train Station by bicycle, you will find all necessary information here!
Bicycles on public transportation:

You want to go by public transportation to "Hauptbahnhof" or "Westbahnhof" check out the useful information of Wiener Linien.
Guided E-Mountain Bike Tour - Klosterneuburg/Vienna Woods:

every Friday until October 24th 2021in Klosterneuburg
no minumum participants, max. 10 persons per tour
Information und registration here:
More guided tours and route information for the northern Vienna Woods.
Guided pedal power tours and rental bikes:
Classic Vienna Sightseeing Tour: 3 hours, Euro 37,00

 May to September daily, October wednesday, friday, saturday
at Bösendorfer Strasse 5, 1010 Wien, 14:00 Uhr
 register at our reception or www.pedalpower.at.
Rental Bikes also available at the camping ground Klosterneuburg: Donaupark Camping: 0043-(0)2243-25877. ID required, registration at the reception desk of the park!
Wachaubahn between Krems und Emmersdorf:

A day trip to the Wachau region for bicycle users and non-bicycle users alike. Ease to reach via Franz Josefs Bahnhof to Krems daily 29.5. - 3.10.21 and Saturday, Sunday- & holidays 20.3.-28.11.21.
Accommodation along the danube bicycle track:
Privatzimmer Hinterstoisser in Ottensheim/Linz: www.privatzimmer-ottensheim.at
Frühstückspension Fidelsberger in Hollenburg/Krems: www.fidelsberger.at
Storage Room:
You can store your bikes in our storage room free of charge. If you have rental bikes you can leave them over there for return.

Service:
Mei-Radl-Werkstatt: Grinzinger Straße 145/Heiligenstädter Straße 140 – Lokal 2, 19. Bezirk