Biking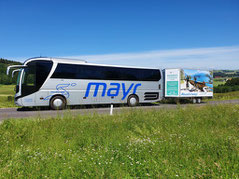 Back to Passau by Train:

 "Rad-Express Donau":
May 1st - June 28th and September 2nd - October 26th 2019 daily at 7:12 from train station "Klosterneuburg - Kierling". Located app. 900 m away from "Alte Mühle".
Arrival Passau: 11:55 hours. Direct Connection
Between June 29th and September 1st 2019 a rail replacement bus service brings you from train station "Klosterneuburg-Kierling" (Niedermarkt) to St. Pölten. Dep.:6:50 hours - Arr.: 8:30 hours. From St. Pölten by train to Passau.
Tickets for € 39,-- adults, € 35,-- children 6-14 years, children 0-5 years free. Available via the local tourist board until 17:00 h on the day before your departure.
Earlier breakfast is possible! We wont let you go hungry!
SPECIAL WEEKEND OFFER: There is a special Arrangement ("Einfach Raus Ticket") available at Weekends and Holidays. Group Rate for 2-5 people: Euro 43,-- for 2 persons, Euro 47,-- for 3 persons, Euro 51,-- for 4 persons, Euro 55,-- for 5 persons + Euro 3,50 per bicycle.

The ticket can be booked via our reception
Storage room:
You can store your bicycles free of charge in our storage room during your stay. If you have rental bikes you can leave them in this room until they will be picked up by the rental company.
Repair Service:
SP SPEED PLANET GmbH, In der Au 2-4, Tel.Nr.: 0664 3904949
Bicycles for hire:
You can rent bicycles at the reception of the camping ground behind the train station: