Biking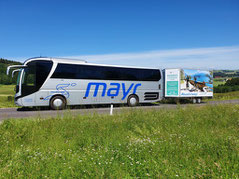 Back to Passau 2020:

by Bus:

from April to September 2020 via a "Bicyle Bus": every week Thursday - Sunday.
Departure at parking place of "Freizeitzentrum Happyland" behind the train station "Klosterneuburg - Kierling" - 900 m from "Alte Mühle"
Only available for selected dates!!!

Time: meeting at 09:00 a.m. - bus leaves after the loading is finished - 10:00 at the latest.
Euro 40,-- for adults and Euro 35,00 for children (6-18 years)
Tickets available via the local tourist board or our reception! In case you want to book them in advance please contact the tourist board via eMail: tourismus@klosterneuburg.net or by phone 0043 - (0)2243 - 32038. Tickets must be picked up or paid at least 24 h prior the your departure date.
The bus is also suitable for e-bikes!
Guided Bicycle Tours - Pedal Power:
Classic Vienna Sightseeing Tour: 3 Hours, Euro 37,00

May - September daily, October Wednesday, Friday, Saturday
Meeting Point: Bösendorfer Strasse 5, 1010 Wien, 14:00 Hours
Registration at the reception or www.pedalpower.at.
Guided SEGWAY TOURs also available! May - September Täglich 9:30 und 14:30 Hours

Places to stay along the Danube Bicycle Path:
Privatzimmer Hinterstoisser in Ottensheim bei Linz: www.privatzimmer-ottensheim.at
Frühstückspension Fidelsberger in Hollenburg bei Krems (Wachau): www.fidelsberger.at
Storage room:
You can store your bicycles free of charge in our storage room during your stay. If you have rental bikes you can leave them in this room until they will be picked up by the rental company.
Repair Service:
SP SPEED PLANET GmbH, In der Au 2-4, Tel.Nr.: 0664 3904949
Bicycles for hire:
You can rent bicycles at the reception of the camping ground behind the train station:
EBIKE RENTAL:
An eBike rental station via app is located at Niedermarkt opposite the train station Klosterneuburg - Kierling (app. 900 m away)