Theatre, Concert, Musical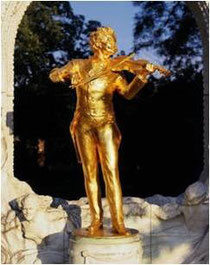 Theatre/Concerts/Musicals:
Vienna is one of the cultural capitals of Europe. Numerous concerts, musicals and operas are waiting for you. Ask for the shedule. If you have found your favourite just let us know.
Musicals in Vienna: 2019
Elisabeth, I am from Austria, Bodyguard, Cats or Jesus Christ Superstar.
Information and tickes: www.musicalvienna.at
Johann Strauss "Wiener Hofburg-Orchester" May - October
every Tue, Thu,Sat at 20.30 – 22.00 Uhr
rates € 45,--/€ 65,--.
W.A. Mozart "concerts at Kursalon Wien" - Strauss&Mozart
daily, 20:15 Uhr, Salonorchester Alt Wien
rates: € 45,-/59,-/69,-/VIP: 99,--
"Schönbrunner Schlosskonzerte" April - October
daily 20.30 Uhr at Orangerie Schönbrunn
rates: € 45,--/65--/75,--/105,--.
Spanish Riding School:
The easiest and cheapest way to see the famous white horses is the training session at the Hofburg, Tue - Fri. 10:00 - 12:00. No reservation, tickets at Josefsplatz, visitors center, € 15,00.
Klosterneuburg Opera:
"La Forza del Destino" will take place in July 2021 at Klosterneuburg Abbey - Kaiserhof.
Further information and tickets: www.operklosterneuburg.at
Film Festival infront of Vienna and Klosterneuburg Town Hall:
July and August 2021 you can watch Operas, Music and Dance Movies on a big screen infront of the town hall in Vienna. A phantastic place for a nice evening including good food and drinks. FREE ENTRY!
Also 2021 the smaller version takes place at "Rathausplatz" in Klosterneuburg only a few walking minutes away from "Alte Mühle". In August the open air cinema offers movies of various kinds, a nice atmosphere, eating and drinking.