Art, Culture, Leisure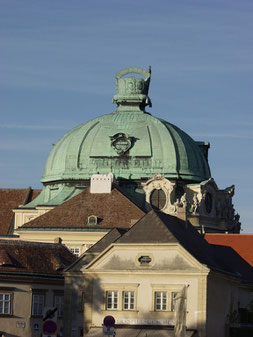 "Stift Klosterneuburg" - Klosterneuburg Monastery:
The most important sight of our town ist the "Augustiner Chorherren Stift Klosterneuburg".
Sala Terrena, "Stiftsplatz" - next to the porter.
Sacred Tour:
Summer season: Mo-Fri 10:00/13:30/16:15 and Sat/Sund 10:00/13:30/15:00/16:15 hours
Check the various tours with the unique treasures like the altar of verdun and many others.
Winery Tour: daily 14:30, sat/sun 13:00 hours
Detailled information and describtions of the tours are available at
Vinothek Stift Klosterneuburg - wine shop of the monastery
Taste the wines, sparkling wines and spirits of the winery in the historical cellars of the Vinothek.
Mo.-Fr.: 9:00 - 18:00 hours
Sa.: 9:00 - 17:00 hours
Su.: 12:00 - 17:00hours
Museum Gugging:

opening times: Tuesday - Sunday 10:00 am - 06:00 pm
"Die Garten" in Tulln - Garden Exhibition:
More than 50 show gardens in different shapes and sizes (80 – 800 m²) situated in the beautiful former wetland now parkland attract visitors from all countries. Landscaping companies, nurseries and architects created garden ideas of multiple designs with beautiful plants, flowers and shrubs.
- 30 m high treetop pathway revealing a fantastic panorama over the Danube and the gardens below
- Austria's biggest children's playground (10.000 m²) for experiencing adventures
April 8th - October 15th 2017 daily 09.00 - 18.00 hours
Bicycles for hire:
You can rent bicycles at the reception of the camping ground behind the train station:
Acetaia Pecoraro :
As a singer at the world famous Vienna State Opera Herwig Pecoraro recreated a part of Modena/Italy in Klosterneuburg.  He started with a couple of barrells and is now the producer of a special aceto balsamico made in Austria.
Information: Tel.: 02243-87323 bzw. 0664-2844304.
Klosterneuburg City Beach:
Too hot for the city, need to cool down? No problem. Only a couple of walking minutes away you can make a break along the danube at the "city beach" - a nice area with pools, boat rental, tennis courts, mini golf. Ask for the guest voucher for free entry.
Forest Rope Park Kahlenberg:
Visit the "Waldseilpark Kahlenberg" located only 15 minutes by car away from Alte Mühle. 18 climbing courses, climbs in the middle of living trees at a height of 1 to 20 meters, fly through the treetops on our Flying fox slip-line. An adventure for kids and adults alike.
www.waldseilpark-kahlenberg.at